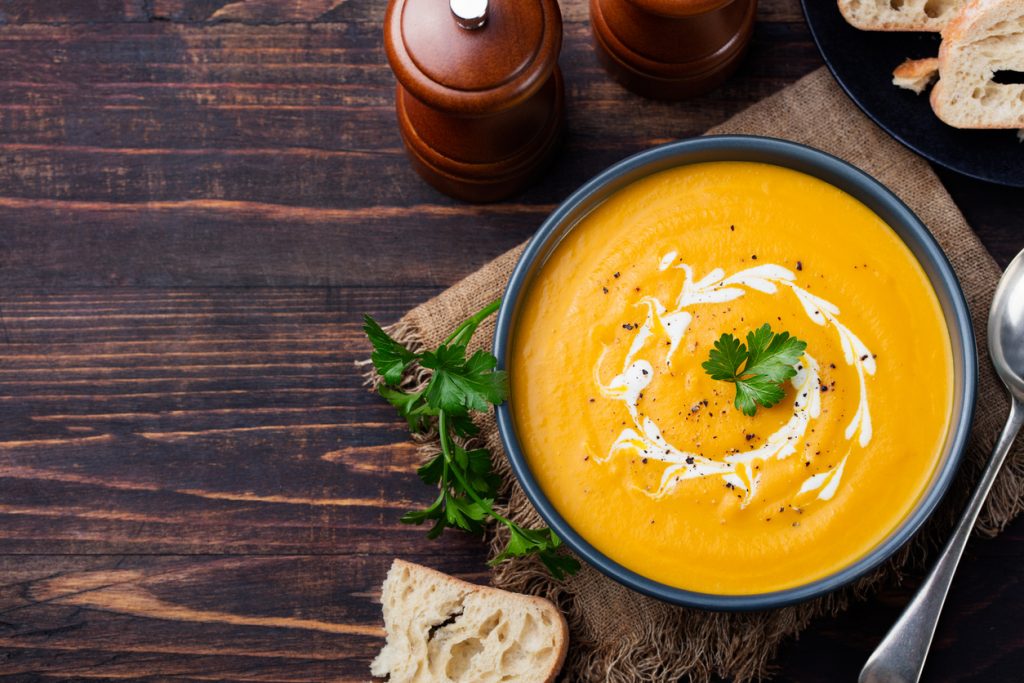 Now that fall is here and the hot summer is behind us, it's time to indulge in the season's go-to comfort food: soup! Whether you like it spicy or savory, you'll love the delicious recipes below.
Hearty Classics
A hot bowl of soup can take you back to simpler times, and for many households, the taste of tomato soup evokes warm memories. This simple homemade tomato soup by Pinch of Yum is a "hug in a bowl," warming your heart and soul with rich San Marzanos, thyme, and bacon. The recipe calls for cream, but remember to add it toward the end.
Taste of Home has a quick recipe for a sweet and mild roasted red pepper soup. The garlic and basil add a note of Italian flare, and the cream imparts a smooth, soothing texture. If you prefer to roast your own chiles rather than buy the jars, you can let them sweat for 15 minutes in a paper bag after they have been roasted. Then you can easily peel away the outer membrane for a more consistent blend.
If you want to embrace the best offerings of the season, try this pumpkin soup by Delish. While sugar pie pumpkin is at the center of this dish, the result is decidedly savory with garlic and black pepper to bring out its flavor. You can also substitute the pumpkin for a squash like butternut or kabocha. To ensure an irresistibly creamy consistency, cook the squash until you can easily pierce it with a fork.
Asian Inspiration
When you're in the mood for something spicy, this coconut curry noodle soup by The Woks of Life satisfies with red curry, fresh ginger, red chiles, and chicken over rice vermicelli.
If you prefer to dial back the spice just a bit, consider Sobremesa's ginger and lemongrass Thai soup for a vegetarian option.
Mexican Mainstays
This chipotle black bean tortilla soup is sure to satisfy even the strongest of appetites, as Minimalist Baker combines corn, beans, salsa, and avocado in one well-seasoned bowl.
For a true taste of Mexican family cooking, this caldo de res by Chef Adán Medrano combines beef with an abundance of vegetables. The standard variation includes sweet peppers, but the chef recommends adding serrano chiles for extra flavor.
You might also like: Try Cowhill Burgers And Gelato!
Huber Motor Cars
If you're craving something fresh, come see what we have ready for you at our Huber Motor Cars dealerships! Whether you're interested in a new Volvo, Volkswagen, Mazda, or Mercedes-Benz, we would love to connect you with your dream car.